Opinion Today
Support for Congressional Incumbents Is Highest Since 2012
Justin McCarthy, Gallup
Most Americans (59%) say the U.S. representative in their local congressional district deserves to be reelected, and 35% say the same for most members of Congress.

Sanders won big with Latinos in Nevada. The nation's largest minority group could reshape the Democratic race
Ronald Brownstein, CNN
Vermont Sen. Bernie Sanders' big win among Latinos in Saturday's Nevada caucuses underscores the potential for the nation's largest minority group to reshape the next stage of the Democratic presidential race.

Biden's advantage shrinks among key voters
Dante Chinni, NBC News
For months, South Carolina's African-American population has been seen as a kind of firewall for former Vice President Joe Biden - a group of voters who would support him even if he had a tough first few contests. But new numbers from the latest NBC News/Wall Street Journal poll suggest that theory may be a little simplistic and the biggest gainer in Biden's early struggles may be Vermont Sen. Bernie Sanders.
CBS News/YouGov poll: In South Carolina, Biden's lead narrows, with Sanders and Steyer on his heels
Jennifer De Pinto, CBS News
The contest in South Carolina looks very different heading into its final week than it did last fall.
Trump's 2020 position is improving
Harry Enten, CNN
Trump's approval rating is going up at the right time. Pre-election year approval ratings haven't been all that predictive of a president's reelection fate. They become much more predictive by March of the election year.

Battleground states poll
Elections Research Center, U. of Wisconsin-Madison
In February, The Elections Research Center conducted surveys in Michigan, Pennsylvania, and Wisconsin that asked voting-age citizens which presidential candidate they plan to vote for in the primary and general elections.
CBS News/YouGov poll: Most voters expect Trump will be reelected
Fred Backus, CBS News
Whether or not they're voting for him, 65% of registered voters nationwide think President Trump will definitely or probably be reelected, including more than a third of Democrats who think so.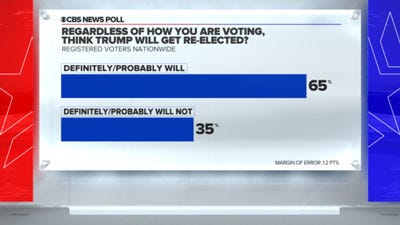 Bernie Sanders, powered by diverse liberal coalition, forces a reckoning for Democrats
Robert Costa & Philip Rucker, Washington Post [via opiniontoday.com]
The Sanders insurgency is the culmination of grievances that have simmered for the past decade among liberals who say Washington has all but ignored the problems of income inequality, health-care access and climate change.

Bernie Sanders Is The Front-Runner
Sarah Frostenson, FiveThirtyEight
With 60 percent of precincts reporting in Nevada, it's time for us to turn our 2020 primary forecast back on, as we think the results we have are pretty representative and the topline picture appears set. Sen. Bernie Sanders won, and he won big.

Why Trump is gloating about Nevada
E.J. Dionne Jr., Washington Post [via opiniontoday.com]
Bernie Sanders is for real, his opposition is fractured, and President Trump is delighted to play the Democrats against one another.

How Bernie Sanders Dominated in Nevada
Jennifer Medina & Astead W. Herndon, New York Times [via opiniontoday.com]
A multiracial coalition brought the senator's long-promised political revolution to vivid life, for perhaps the first time in the 2020 race.

Sanders eviscerates the conventional wisdom about why he can't win
Ryan Lizza, Politico
In Nevada, he exposed his main rivals as weak, divided, and grasping at increasingly tenuous arguments about their viability.

Bernie Sanders Wins Nevada — Putting Him In The Driver's Seat To Win The Nomination
Nate Silver, FiveThirtyEight
Bernie Sanders has won the Nevada caucuses, and it looks like he's going to win them by a big, perhaps even landslide margin. It should be even clearer now that Sanders is easily the most likely Democrat to win the nomination.

With help from Latino voters, Bernie Sanders hits the Nevada jackpot
Gary Langer, Christine Filer & Sofi Sinozich, ABC News
Sanders also ran competitively in the state among unaccustomed support groups.

Minnesota poll: Klobuchar has edge in primary
Brian Bakst, MPR News
Minnesota Sen. Amy Klobuchar enjoys a slight edge as her home state's presidential primary nears, according to a new MPR News/Star Tribune Minnesota Poll that shows plenty of likely voters still haven't decided.

Democrats are on a perilous course as they seek a nominee to challenge Trump
Dan Balz, Washington Post [via opiniontoday.com]
In their quest to find a challenger to oppose President Trump, Democrats are on a perilous course. Less than a month into the primary-caucus calendar, they risk an acrimonious split in their ranks and the threat of a contested national convention that together could sink their hopes of winning in November.

Same Goal, Different Playbook: Why Russia Would Support Trump and Sanders
David E. Sanger, New York Times [via opiniontoday.com]
At first glance, it may seem contradictory that the nation's intelligence agencies were telling Congress that President Vladimir V. Putin is presumably striving to get President Trump re-elected, while also warning Senator Bernie Sanders of evidence that he is the Russian president's favorite Democrat.

What is a brokered convention? What is a contested convention?
Elaine Kamarck, Brookings Institution
A crowded Democratic field has primary voters and observers asking an important question: What happens if we reach the convention and no candidate has amassed a majority of delegates?