Opinion Today
December 6, 2021
City polls show Black, white Americans divide in views on being treated differently due to race
David Paleologos (Suffolk U.) USA Today
As part of our first-of-its-kind CityView series, Suffolk University and USA TODAY have been collaborating to poll residents of large American cities about the issues facing them—with a focus on perception of race in America. Over the last several months, we've polled the residents of Milwaukee, Detroit, Los Angeles, Louisville, and Oklahoma City—cities that are geographically, politically, economically, and racially diverse, but whose residents share views, especially along racial divides.

Bob Dole as seen in the polls
Charles Franklin (Marquette Law School), PollsAndVotes
Sen. Bob Dole died today. Many posts and stories about his life and service to the country. My small addition is this look at his career in the eyes of public opinion.

Voting Battles of 2022 Take Shape as G.O.P. Crafts New Election Bills
Nick Corasaniti, New York Times
Republicans plan to carry their push to reshape the nation's electoral system into next year, with Democrats vowing to oppose them but holding few options in G.O.P.-led states.

Saving Democracy Will Require Institutional and Civil Resistance at All Levels
David Atkins, Washington Monthly
A sense of alarmed fatalism is starting to take hold among pundits and political scientists. It's not hard to see why: The future of American democracy looks exceedingly grim under threat from a far-right authoritarian movement—and it's not clear that any particular electoral or legislative response by Democrats can fix it.

The Dangers of the Democratic Doom Loop
Dan Pfeiffer, The Message Box
Democratic pessimism is becoming a self-fulfilling prophecy by demobilizing our voters and volunteers.

Why international election observers would give Wisconsin a failing grade
Laura Thornton (Alliance for Securing Democracy), Washington Post
It is difficult to assess actions in our own country through an international lens. We are too mired in events and have too much at stake. But imagine for a moment that we're a foreign election observer touching down in an unfamiliar land called Wisconsin.

The GOP's fruitless search for the next Glenn Youngkin
Josh Kraushaar, National Journal [via opiniontoday.com]
The Virginia governor-elect didn't win because of his business background. He prevailed because his campaign message resonated with both Trump voters and swing-voting suburbanites.

Biden ran on bringing people together. He's failed so far
Harry Enten, CNN
President Joe Biden ran on a campaign of bringing people together. But nearly a year into his administration, Biden has been overwhelmed by the long-term trend of polarization. He sports the lowest approval rating among the opposition party at this point in a presidency in at least 68 years, while having one of the highest approval ratings among his own party.

Turning outrage into power: How far right is changing GOP
Brian Slodysko, Associated Press
The path to power for Republicans in Congress is now rooted in the capacity to generate outrage. The alarming language, and the fundraising haul it increasingly produces, is another example of how Donald Trump, the former president, has left his mark on politics, changing the way Republicans rise to influence and authority.

GOP vaccine resistance confronting Biden has deep roots
John Harwood, CNN
The worrisome Omicron variant lends fresh urgency to President Joe Biden's months-long grind to vaccinate Americans against the coronavirus. He needs it. That 78 million Americans still resist protective shots confounds anyone examining the medical evidence of the vaccines' effectiveness. But the evidence of history, turbocharged by the modern Republican Party's extremism, makes vaccine resistance no mystery -- and Biden's effort a slog even after nearly 800,000 deaths from Covid-19.

Abortion wars have raged for decades. They could soon get worse.
Dan Balz, Washington Post [via opiniontoday.com]
A decision to overturn Roe would forever etch the court of Chief Justice John G. Roberts Jr. in the history books and trigger a political earthquake, potentially redrawing the balance between the supporters and opponents of abortion rights.

Trust issues: Dealing with distrust in politics
Harry Quilter-Pinner, Rachel Statham, Will Jennings & Viktor Valgarðsson, Institute for Public Policy Research
Liberal democracy across the West is under strain. The causes of these democratic challenges are many and complex but there is a common thread: a decline in political trust. We argue that policymakers must act on four significant social and political 'gaps' to arrest the decline in trust. In this report, we outline four major areas of challenge for policymakers to focus on to improve political trust.

Hot tempers can help cool the planet
Anandita Sabherwal (LSE), Adam Pearson (Pomona) & Gregg Sparkman (Princeton), LSE Business Review
Although often viewed as an antisocial and destructive emotion, our research suggests displays of public anger may have hidden perks for mobilising public responses to tackling climate change. In a series of survey experiments with a politically diverse online sample of US adults, we found that simple messages conveying growing public anger about climate inaction within the US can lead people across the political spectrum to shift their thinking on the issue in important ways.

Democracy is 'failed' or 'in trouble' among young voters, a new poll shows
Dante Chinni, NBC News
The largest segment of this bloc of Americans is the non-college segment and they're not fans of the Biden White House.

Selection in Surveys
Deniz Dutz, Ingrid Huitfeldt, Santiago Lacouture, Magne Mogstad, Alexander Torgovitsky & Winnie van Dijk, National Bureau of Economic Research
We evaluate how nonresponse affects conclusions drawn from survey data and consider how researchers can reliably test and correct for nonresponse bias.

Tweets of Note
The youngest and oldest generations report the most dramatic growth in likelihood to 🚗travel ✈️this holiday season. View the full infographic:
ssrs.com/holiday-and-ev…
#happyholidays
#holidaytravel
#surveyresearch
#data
#holidayseason
#travel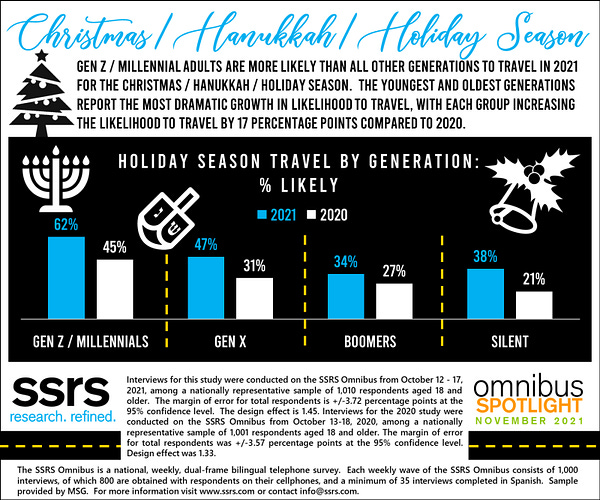 Thanks for reading Opinion Today! Subscribe for free to receive new posts and support our work.