OpinionToday.com newsletter
Feb. 25, 2020
Opinion Today
NBC News poll: Biden holds narrow lead over Sanders in South Carolina
Mark Murray, NBC News
Former Vice President Joe Biden and Sen. Bernie Sanders, I-Vt., are locked in a tight contest in South Carolina, according to a new NBC News/Marist poll ahead of the state's Feb. 29 Democratic primary.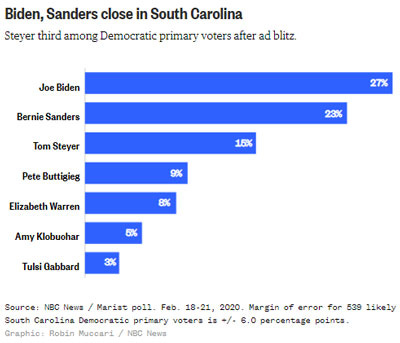 Here's how Bernie Sanders in 2020 differs from Bernie Sanders in 2016
Harry Enten, CNN
Vermont Sen. Bernie Sanders is the prohibitive frontrunner for the 2020 Democratic presidential nomination. It's not just that he had more people cast a ballot for him in each of the first three contests. It's how Sanders is doing it compared to his last run in 2016.

Few Americans are confident in tech companies to prevent misuse of their platforms in the 2020 election
Hannah Gilberstadt, Pew Research Center
Nearly three-quarters of Americans (74%) express little or no confidence in technology companies like Facebook, Twitter and Google to prevent the misuse of their platforms to influence the 2020 presidential election.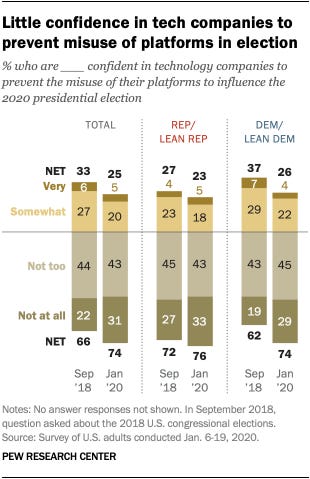 Texas Democratic Primary Election 2020 Survey
U. of Houston Hobby School of Public Affairs
To explore the opinions of likely Democratic primary voters in Texas, the University of Houston Hobby School of Public Affairs conducted an online survey to determine the leading candidates for the Democratic nominees for president and U.S. senator, opinions of salient policies and approval ratings of key national and state politicians.

If Democrats Aren't Terrified of Bernie, They're Not Paying Attention
Jonathan Chait, New York Magazine
A liberal party drifting helplessly along as a small radical cabal steers it toward likely catastrophe? I didn't think it could happen here.

Biden lost his 'electable' claim. That's why black votes are up for grabs again.
Chryl N. Laird (Bowdoin) & Ismail K. White (Duke), Washington Post [via opiniontoday.com]
The South Carolina primary might be his last chance for viability.

Some candidates do better than the polls and others worse. We break it down.
Josh Clinton & John Lapinski, NBC News
The NBC Decision Desk analyzed dozens of surveys taken before votes in the early 2020 primary states.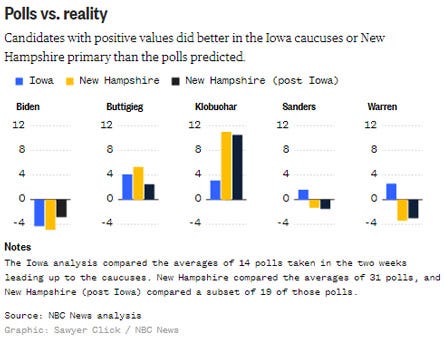 The Democratic Nomination: It's Getting Late Early
Kyle Kondik & J. Miles Coleman, Sabato's Crystal Ball
Democratic rank-and-file voters do not seem worried about Sanders as the nominee. Many Democratic leaders feel differently. They are running out of time to make the voters heed their warnings.

Who would win a Trump-Sanders election?
Philip Bump, Washington Post
It's easy to find oneself buffeted by various analyses of where Sanders stands and whether another candidate might fare better. With that in mind, we've grouped evaluations of such a matchup with an eye toward weeding out motivated rhetoric and focusing on what's known.

Why Swing-District Democrats Don't Want Bernie Sanders as the Nominee
Kyle Kondik (Sabato's Crystal Ball), New York Times [via opiniontoday.com]
Fears of a potential party wipeout may be overstated. But it's not hard to understand their theoretical basis.

Bernie Sanders, turning a referendum into a choice
Stuart Rothenberg, Roll Call
Whatever you think about Sanders — whether you think he's an anti-establishment voice for change who promises to help the ignored and repressed, or an ideological demagogue who failed to understand the nature of the Soviet and Cuban communist regimes — there should be little doubt that the Vermont senator is a controversial, even divisive, figure.

Sanders Says He'll Attract a Wave of New Voters. It Hasn't Happened.
Sydney Ember & Nate Cohn, New York Times [via opiniontoday.com]
Bernie Sanders has so far prevailed by expanding his appeal among traditional Democratic voters, not by driving record turnout.

Maybe don't bet heavily on Trump winning most Jewish votes in 2020
Philip Bump, Washington Post
The last time the Jewish vote in a presidential race was even close was 1980. Since 1992, though, the Democratic candidate for president has beaten the Republican among Jewish voters by no less than 39 points. In 2016, Trump lost to Hillary Clinton by nearly 50 points.

The Equal Rights Amendment and Discrimination against Women
Associated Press-NORC Center for Public Affairs Research
Support for the Equal Rights Amendment is high and many continue to see bias against women in the workplace and politics, according to the AP-NORC Poll conducted in January 2020.

What Sanders's Big Nevada Win Means For The Rest Of The Race
FiveThirtyEight podcast
Sen. Bernie Sanders won a decisive victory in the Nevada caucuses over the weekend. In this installment of the FiveThirtyEight Politics podcast, Jon Ralston, editor of The Nevada Independent, joins Nate Silver and Galen Druke to break down the voting patterns that helped Sanders win and what they mean going forward.